1.30 – 2.30 pm Sundays 19 Nov, 26 Nov, 3 Dec
Learn to meditate or strengthen your meditation practice. Explore gentle Buddhist methods for developing a calm and peaceful mind.
Join experienced Tibetan Buddhist Society meditators who will lead these relaxing sessions including a guided meditation, talk and opportunity for questions.
ABOUT THE CLASSES
You can join the classes in the magnificent traditional Tibetan temple. Everyone is welcome and the sessions suit both beginners and experienced meditators.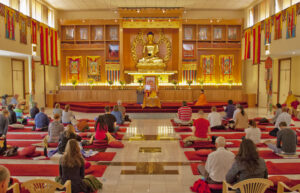 The temple is a wonderful and serene space, featuring a 12-foot statue of Shakyamuni Buddha and unique Tibetan artworks called thangkas. Cushions for those who like to meditate cross-legged, and chairs to suit others' comfort. Delicious refreshments and an opportunity to chat after each session.
All class leaders are long-time students of the teachings of Venerable Geshe Loden, the Society's founder.
Sunday classes comprise a guided meditation, talk and an opportunity for questions. Delicious afternoon tea is served after the session. There is $10 facility charge. All proceeds support the upkeep of the temple and gardens.
Address – 20 Cookes Rd., Yuroke (off Mickleham Road, 5 minutes west of Craigieburn and 10 minutes from the Tullamarine Fwy turnoff on to Mickleham Road)  

Queries: events@tushita.org