Learning to visualise White Tara can awaken our potential for peace and happiness, and produce a great accumulation of positive imprints.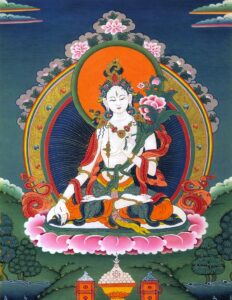 White Tara represents great compassion and expresses her peacefulness and love for all beings with her white radiance like a full moon.
Venerable Geshe Acharya Thubten Loden, the spiritual head and founder of the Tibetan Buddhist Society, crafted beautiful White Tara prayers and meditations to help us develop peace and compassion, improve our mental and physical well-being, as well as energy and wisdom.
The session leader is Hilary Lynch (pictured below), a Tibetan Buddhist practitioner and long-time ​student of Venerable Geshe Loden.
DETAILS
The session will be in the magnificent traditional temple and online via the Tibetan Buddhist Society YouTube channel.
All are welcome.
For those on-site afternoon tea is served in the temple dining room after each session.
The facility charge for each session is $10. Registration is not required. All proceeds support maintenance of the temple and gardens. For more info please visit our website, email events@tushita.org or phone 9333 1770.