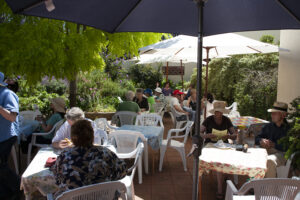 A MEDITATION FIESTA of guided meditation, its underlying philosophy, workshop, children's meditation and the opportunity to perceive the benefits this marvellous practice for better health and happiness can bring
A MAGNIFICENT TRADITIONAL TIBETAN TEMPLE and beautiful 10-acre gardens for everyone to enjoy
BLESSING CEREMONY that includes prayers and meditation for His Holiness the Dalai Lama's long life and well-being and the fulfilment of his wishes: a world free of war and poverty – filled with peace and harmony.
Teachers explore methods during one hour TALKS AND MEDITATIONS to bring more happiness into our lives. They represent various Buddhist traditions such as Tibetan, Japanese and, Korean traditions. There are many meditation and mindfulness techniques – that suit different practitioners – to develop qualities that bring more happiness to ourselves and others we encounter, such as compassion, love, concentration, generosity, enthusiasm, patience and wisdom.
Enjoy browsing wares from around the world at the FESTIVAL MARKET. The colorful market offers Tibetan and local handicrafts, Indian shawls, jewelry, Tibetan and Nepalese blankets, books, meditation cushions, bags, ornaments, soaps, incense, and plants.
The ENJOYMENT SHOP stocks a wide range of organic foods and beautiful giftware including bags, jewelry, woolen shawls, scarves, the Tibetan Buddhist Society's special blend of chai tea and a selection of cards.
The festival is FAMILY FRIENDLY with meditation sessions for children and other children's activities.
FREE GARDEN TOURS: learn how the beautiful 10-acre gardens are maintained through natural methods and organic gardening – such as the use of recycled water and seasonal activities throughout the year.
Wander the peaceful gardens on your own or relax by the lakes and watch the birdlife. The gardens are filled with many colored roses, and salvias, marigolds, 100s of trees including golden robinias, Californian redwoods, blue spruce, maples, olive trees and much more.
During fascinating TEMPLE TOURS you learn about Tibetan culture – the meaning of the many traditional Tibetan symbols and ornaments inside and outside the temple, and the history behind the golden 12ft Buddha Statue. View wonderful thangkhas (Tibetan paintings and tapestries)
A beautiful array of delicious vegetarian FOOD and DRINKS including coffee and homemade cakes.
Tibetan Buddhist Society
20 Cookes Rd
Yuroke VIC 3163
Tel: +61  03 9333-1770