Path to Enlightenment Buddhist Classes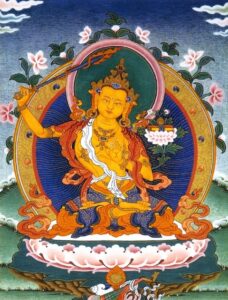 Geshe Acharya Thubten Loden, the peerless master and great scholar who founded the Tibetan Buddhist Society likened the Path to Enlightenment to a master key. A master key in a hotel opens all the doors, and likewise, the Path to Enlightenment opens the doors to so many realisations.
If you feel a bit down, then why not step through the door to greater wellbeing and joy? Try practising the path to enlightenment: If stressed and anxious, why not unlock the door of calm abiding? When upset and angry, try opening the door to great patience that is like a still, deep lake. If seeking a deeper connection to your heart and purpose in life, then the radiant door of compassion, love and bodhichitta may be attractive.
Or if curious, you may venture to the threshold of the most profound door, the wisdom knowing the ultimate nature of reality – egolessness, selflessness, emptiness. With so many doors to choose from, do you go for the red, blue or green one? Fortunately, we don't have to pick, as the master key – the Path to Enlightenment opens them all. Bonus!
Path to Enlightenment in Tibetan Buddhism serves as the course textbook. It presents the remarkable Tibetan Buddhist meditations and methods for developing the mind.
Strengthen your meditation practice and use Buddhist practice to discover more happiness in your daily life.
Understand how to put the Dharma teachings into effect.
Each session will incorporate meditation, Q&A, and tea, coffee and cake afterwards. As a new topic is presented each week, you are welcome to drop in whenever suits you. The facility charge is $10. Classes are held in the magnificent traditional Tibetan temple at 20 Cookes Road, Yuroke or online at Tibetan Buddhist Society YouTube channel.
Tibetan Buddhist Society
20 Cookes Rd
Yuroke VIC 3163
Tel: +61  03 9333-1770