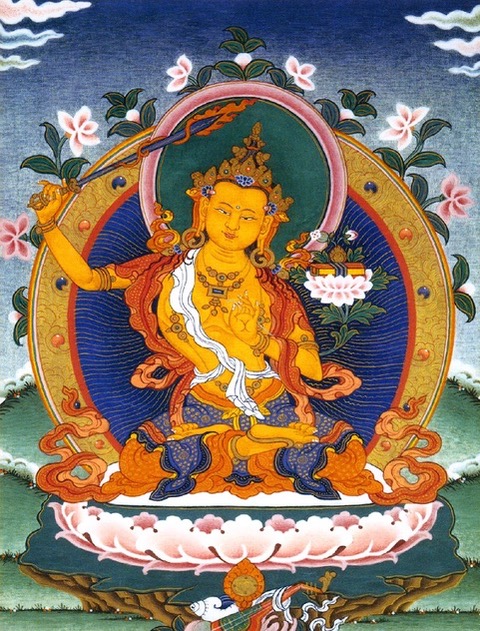 Yamantaka Sessions Wednesdays from 7.30pm to 9pm
The Yamantaka classes, held both online and at the temple, include guided practice of the Yamantaka sadhana.
Solitary Hero Yamantaka is a core Gelug practice. Yamantaka is the wrathful manifestation of Manjushri, the Buddha of wisdom. As a wrathful practice, Yamantaka presents the means to quickly overcome obstacles that hinder one's Dharma practice and to achieve enlightenment. The teachings are drawn from Venerable Geshe Acharya Thubten Loden's extensive commentary on the Yamantaka practice, Ocean of Indivisible Method and Wisdom.
As one of the father tantras, Yamantaka teachings emphasise the practice of illusory body. The Yamantaka practice has five extraordinary features:
Our practice will be successful even in the most difficult circumstances.
The practice includes the profound paths of the illusory body and clear light as explained in Guhyasamaja tantra.
The Solitary Hero Yamantaka tantra has the practices of non-dual bliss and emptiness.
The tantra has the methods for achieving enlightenment, even for those who have created extremely heavy negative actions.
Through this practice one becomes closer to Manjushri, and more easily receives his blessings.
Each class includes sadhana practice, instructions and guided meditation in the traditional Tibetan temple, followed by supper. There is a facility charge of $10, with proceeds going to support the temple. Geshe Acharya Thubten Loden's Yamantaka commentary titled Ocean of Indivisible Method and Wisdom provided the basis for the teaching program.
You should wear loose fitting comfortable and warm clothing.
In addition to weekly practice, each second year the Tibetan Buddhist Society holds a two week Yamantaka retreat. During the retreat we complete the mantra commitments, and the retreat concludes with the traditional fire puja.
If you would like to attend these classes, please register, so that we can send you a Google Meet link to the class.
Tibetan Buddhist Society
20 Cookes Rd
Yuroke VIC 3163
Tel: +61  03 9333-1770