His Holiness the XIVth Dalai Lama by Martin Horan 
So far, the 2020s have been one of the most unsettled and difficult decades for our planet.  His Holiness the XIVth Dalai Lama's guidance and courage give us hope for a better future by showing the path to a kinder, wiser and more peaceful world.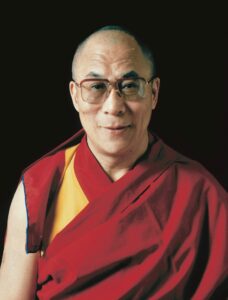 Dharma activity
His Holiness has continued to give vast and extensive teachings in Dharamsala in 2022. He has taught on holy texts such as Je tsun Tsongkhapa's "Concise Stages of the Path to Enlightenment" and "In Praise of Dependent Arising".  He has also conferred the Avalokiteshvara Jinasagara empowerment.
Guidance in difficult times
As the first of the long line of Dalai Lamas to become a global thought leader, His Holiness has continued to provide guidance and hope to humanity in responding to the many and unique difficulties we face in this era. In his comments on Earth Day in April 2022, His Holiness drew on his perspective of universal responsibility and goodwill to convey a uniquely human focused and positive message.
"On Earth Day 2022, let us remember that everybody wants to live a happy life. Not only human beings, but animals, birds and insects too. All of us should be concerned about our collective existence. As human beings our marvellous brains provide us with remarkable opportunities to do good, but if we look at how the world is today, we should be able to do better. We need a more holistic education, an education that incorporates inner values, such as a compassionate concern for others' well-being.

Our world is heavily interdependent. New challenges, like the climate crisis that affect us all, as well as our participation in the global economy, mean that we must take the whole of humanity into account. We have to put the global interest first….
Our life is based on hope, a desire for things to turn out well. Hope is concerned with the future. Although nothing about the future can be guaranteed, we remain hopeful, which is much better than being pessimistic. Even as global warming increases in intensity, many young people in particular are working together to find and share solutions. They are our hope."
Message to Australians
In May 2022, His Holiness had a special message for Australians when he wrote to our new Prime Minister, Anthony Albanese, congratulating him on his election and wishing him every success in meeting the challenges that lie ahead in fulfilling the Australian people's hopes and aspirations and in contributing to a more harmonious world.
His Holiness fondly recalled his various visits to Australia.
"Beginning with my first visit to Australia in 1982…. I have had the privilege to visit your beautiful country quite regularly… I have been deeply touched by the openness and warmth of people from all walks of life. I have been encouraged by the enthusiastic interest many have shown in my efforts to promote basic human values such as kindness, tolerance and forgiveness, as well as inter-religious harmony.

We Tibetans have been honoured to enjoy the support of the Australian people and their respective leaders in our effort to preserve our Buddhist cultural heritage. Its principles of non-violence and compassion have the potential to help individuals find peace of mind and contribute to peace in the world."
May His Holiness enjoy long life, excellent conditions and continue to provide guidance and wisdom to the people of our world.