By Cheng Kwong
Cheng Kwong shares her marvellous story 'Cooking with Geshe-la', answering a series of questions about the experience Cheng describes as "an honour and privilege." Cheng explains "I'm learning so much now, as I recall the times with him, and it makes me think I need to practise more and more."
How did you come to cook for Geshe-la?
I was working at a nursing home in Gladstone Park and wanted to cook for Geshe-la. But I was not quite ready to leave work. Geshe-la was cooking for himself and others into his 60s.
I decided that doing more cooking for Geshe-la was a good idea, and Geshe-la was agreeable. So, I started with some lunch and dinner while I was still working full-time. It was a very busy time, but I felt energised.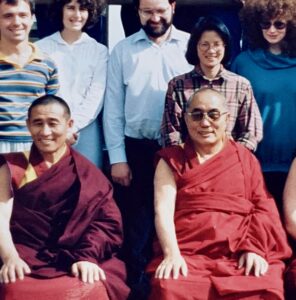 How did you organise this?
Before I went to work, I would make his lunch bread with yoghurt and milk, pan fried and ready so Jean (Geshe-la's secretary) could serve it.
I would make dinner, whatever Geshe-la requested. Then Jean would heat and serve it, or Geshe-la would serve himself and others.
Geshe-la was always setting aside a bowl of food for some of the main publishing team members – while they were preparing the books especially.
How about Tibetan momos?
Geshe la showed me how to make momos, especially the pleating. It was hard because I was not good at this skill. You roll the dough into a ball, press it down, using the rolling pin, the left hand turns the pastry around – ideally in one round. I had to do it many times until I learnt. At first, I managed to get a little hole. I needed to be shown quite a few times how to get it perfect. Geshe-la always made sure there was a hole in the top of the momo, so when you bit into the momo there was juice.
Geshe-la taught me other methods for momos – for example the edges of the dough are thinner, the middle is thicker. There is an art to doing that – and there is a special rolling pin, quite small.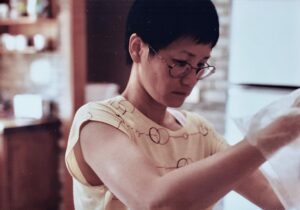 Geshe-la's momos were medium size. If I was busy, I made bigger ones, but Geshe-la said "football not necessary. Normal is better."
There is a different momo for the momo soup – the shape of a little mouse.
You make the little momo the same, just a smaller size, long in shape. The frill is made at the top, by pinching – about half the size or three quarters of a normal momo.
Geshe-la also liked steamed bread, that was very light and fluffy to eat that with the soup.
Any other dishes?
I also learned from Geshe-la how to make thukpa and tentuk. Thukpa are little dough balls and tentuk, pulled noodle to put in stews.
It was important to use the right amount of ingredients, the right amount of tomato, curry powder, and silver beet chopped very fine. There was also stew with broccoli cut into small florets and very well washed.
What was the experience of cooking for Geshe-la?
It was very special, a privilege and honour to be able to help Geshe-la in this way. Not many people had that experience.
Eventually I went from full-time work to weekend only. This meant I could give more attention to shopping, cooking and serving full-time.
Other people helped with the shopping. Then Geshe-la would get me to buy a whole box of organic fuji applies and I would bag them up and give them to different people.
A young couple cooked on the weekend. At the same time, I was looking after my Mum – so life was very busy.
Geshe-la also worked with a naturopath on his hay fever. The advice was no yoghurt which I helped ensure he didn't have. But on the weekend when I was out with my Mum he would sometimes ask for a little yoghurt and banana as he really enjoyed it a lot.
When it is feijoa season I would pick the best feijoas, the biggest and sweetest. The centre's feijoas were his favourite fruit. Each meal I washed a few and put it on a plate. He would cut it in half, scoop out half for Jean or me.
Or he would have slices of organic apple, no skin.
What was your main learning?
I am still thinking about the experience and learning a lot from that.
I think I was a very fortunate student to be so close to Geshe-la – 14 hours a day to be able to look after him from morning to night especially towards the end of his life.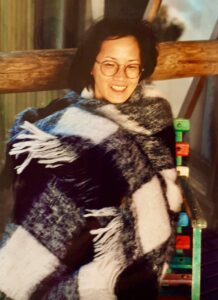 How fortunate it is to be able to look after your guru who gave you all the teachings, being so close.
I'm learning so much now, as I recall the times with him, and it makes me think I need to practise more and more.
I was all the time trying to practice generosity – generosity comes in many forms.
One time we were cooking meat for the Tibetan New Year dinner, and I didn't realise how many Tibetans were coming.
We just had enough and there was nothing for a second helping.
Geshe-la told me off on this occasion*. He was all about generosity – food, money, meals, sharing – there was always lessons – this time in generosity.
*Editor's note – Tibetan Buddhists regard a scolding as a special blessing and purification from the guru.
Enjoyed this article? Read similar: The profound and precious blessing of the lama by Christine McKeown