The Peaceful Land of Joy gardens are open to visitors on the first Saturday of each month.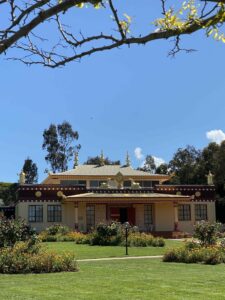 WELCOME TO VISITORS!
The Peaceful Land of Joy gardens will be open to visitors on Saturday 3 December between 10 am and 1 pm. We'd love you to come and join us!
Whether despite or because of this rainy spring, the gardens are full of colourful blooms. The volunteer gardeners will be out and about weeding and mulching and will be happy to have a chat and answer any questions you might have. Why not drop by, wander around, enjoy the peace and beauty, and say hello?
You are welcome to bring a picnic or a thermos and find a bench under the golden robinia or redwoods. You can take in the glorious views of the temple and lake while you enjoy a quiet cuppa.
You'll also be able to take a look around our magnificent traditional Tibetan temple.
The Enjoyment Shop will be open and is full of beautiful gifts and new jams made from fruits and flowers from the gardens.
Inquiries: events@tushita.org