The story of the Peaceful Land of Joy, by Michael Joseph
From 1983, the Melbourne centre was located in a rented house in East Melbourne that had eight bedrooms and large entertainment area for classes. Geshe-la said that we should look for a place of our own.
Over several years we inspected many properties before coming across an advertisement for a property called Amadora in Yuroke. Accompanied by some of his students Geshe-la inspected Amadora several times before deciding that, yes, we should try to buy it.
At the time interest rates were 17%! The centre had funds to cover a 10% deposit but certainly did not have income anywhere near enough to meet the monthly repayments of a loan. So, at that stage, it was doubtful we'd be able to obtain approval for a loan.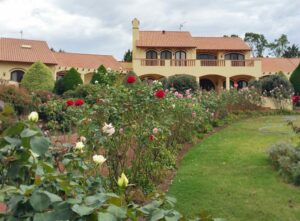 Each week we banked at our local East Melbourne branch, which Geshe-la would often attend. He developed a friendly relationship with the local bank manager. So, when it came time to seek a loan, Geshe-la approached the manager directly for his assistance.
The manager agreed to help, and made representations on behalf of the centre. The bank ultimately agreed to provide a loan that would cover the purchase of Amadora as well as some building work.
Several of his students thought that it was too big a reach to buy Amadora, and they advised Geshe-la that we should not try. Nonetheless Geshe-la had no doubts.
Mahakala is Geshe-la's and the TBS's Dharma protector. On the day of the auction Geshe-la said that if we were unsuccessful in buying Amadora then he would stop practising Mahakala.
I don't know if he was joking. Geshe-la led the centre's bidding at the auction, and ultimately, in 1988, the Tibetan Buddhist Society Melbourne successfully purchased Amadora.
As they say, the rest is history!