A precious guide in a challenging world by Jenny Stone
The expression that every action of the body, speech and mind of a holy being is dedicated to benefiting all, is one so familiar to Buddhists that I wonder if sometimes we may lose sense of its profound and beautiful meaning.
So, I invite you to explore the website dalailama.com/ for a just few minutes. Perhaps, like me, you will be moved by the conviction that indeed, the seemingly ceaseless and tireless activities of His Holiness the XIVth Dalai Lama, all serve to teach and guide us through these challenging times.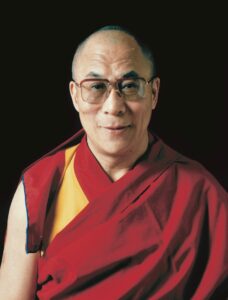 His Holiness reaches out to all people – religious and secular, not only in-person but also online via You Tube and his regular, inspiring postings on Twitter, Facebook and Instagram. Across all these various forums, His Holiness encourages us to embrace all sentient beings and our very earth itself with compassion, love and kindness.
A precious existence
Recognising the advancing years and precious existence of His Holiness, various schools of Tibetan Buddhism have recently offered long life ceremonies attended by His Holiness.
Dharma teachings
His Holiness continues to teach holy texts such as Chandrakirti's "Entering the Middle Way", Dharmakirti's "Commentary on Valid Cognition", Nagarjuna's "Fundamental Wisdom of the Middle Way" and, in Bodhgaya, three days of teachings on Nagarjuna's "Commentary on Bodhichitta" (available on video). In March, His Holiness will teach on the Jataka tales and offer the Chakrasamvara empowerment in Dharamsala. 
Offering support
His Holiness has offered condolences and support to those impacted upon by the devastating earthquakes in Türkiye and Syria and asked the Gaden Phodrang Foundation of the Dalai Lama to make a donation to rescue and relief efforts.
Good governance, secular ethics and education
In December, His Holiness spoke to 6000 Indian students, teachers and parents at the Salwan Education Trust in Gurugram about secular ethics and opened a conference addressing a worldwide initiative for educating the heart and mind in Dharamsala:
"When they are young, children love to smile and readily respond to compassion. We must find ways to keep these qualities alive so that they maintain a compassionate attitude and learn how to tackle anger as they grow up. Time at school should include methods to achieve peace of mind."
In January, His Holiness addressed the Institute of Public Administration (IIPA) in Delhi on the importance of qualities of ancient Indian thought such as "karuna" and "ahimsa".
His Holiness also laid the foundation stone for the Dalai Lama Centre for Tibetan and Indian Ancient Wisdom. This was established with the vision that should "ancient Indian wisdom, particularly with regard to the workings of the mind and emotions, be revived and shared more widely, it would contribute to the creation of a more peaceful, more compassionate world," according to His Holiness the Dalai Lama's website.
Care for the environment
January 25 saw the launch of a book "Heart to Heart: A Conversation on Love and Hope for our Precious Planet" by His Holiness the Dalai Lama and cartoonist Patrick McDonell.
And from social media….
"Compassion and love are not a luxury; they are essential to our existence. Without a sense of caring, there can be no sense of community. If we are to survive, human beings must develop a greater sense of universal responsibility. We must learn to work not just for our own self, family, or nation, but for the benefit of all humankind." February 3, Facebook.
May His Holiness enjoy long life, excellent conditions and continue to provide guidance and wisdom to the people of our world.