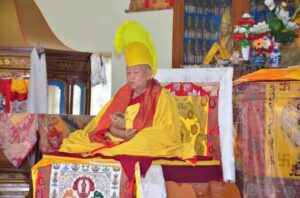 Advice for Australian Buddhists
We are delighted to host a special talk by the esteemed scholar and tantric master Khensur Rinpoche Lobsang Phende, who is visiting Melbourne for a short time. He will provide special advice about practising Buddhism in the West. You are welcome to attend. Please register below.
Khensur Rinpoche Lobsang Phende
Khensur Rinpoche Lobsang Phende was born in 1941 in central Tibet. At the age of 9 he became a monk at Sera Mey Monastery. He left Tibet in 1959 and continued his studies in Buxa, India until 1970. Age 28, he moved to Mysore, South India where he continued his Geshe studies. In 1985 he attained the Geshe Lharam degree (the highest level Geshe qualification).
In 1986, he enrolled at Gyudmed Tantric College. In 1991 he was appointed Discipline Master there. From 1992 to 2000, he was Discipline Master at  Sera Mey Monastery in India and taught Buddhist philosophy to thousands of monks.
From 2000 to 2011 he lived in Italy and was the Master of a monastery there.
In 2011 he was appointed Second Abbot at Gyudmed Tantric College. From October 2014 until 2017 he was Gyudmed Tantric College Abbot.
He has taught Buddhist philosophy in many countries around the world, and is now the Director of Cian Ciub Cio Ling centre in Italy.