Among many Buddhist Spring Festival highlights include the Ceremony for World Peace at 12 noon and the talk by Zen Master Ekia Komatsu Roshi on Compassionate Living: The Core of Buddhist Meditation at 2pm. See details below and the gate entry. Here is the schedule with other delightful Festival activities listed here.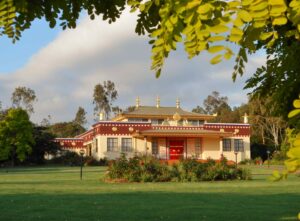 10 am Gates open
10.30 am Guided meditation with Deb Di Meo
Join Deb Di Meo for a session of guided meditation Deb will explore self compassion – which requires us to accept ourselves, and recognise that we are vulnerable and have challenges just like everyone else. By developing compassion for ourselves we are better able to develop compassion for others. Deb is a regular student of the Tibetan Buddhist Society and an Associate Director.

11 am Garden tour – join Christine McKeown for a tour of a beautiful 10-acre gardens at the Peaceful Land of Joy Meditation Centre. The gardens features dozens of rose bushes, Californian redwoods, thousands of trees and a vast array of other plants including golden robinias, blue spruce and many colourful varieties of salvia. The two lakes are home to diverse species of birds and other wildlife live near the shores.
12 noon Ceremony for World Peace – join prayers for world peace and hear excellent speakers including the CEO of Banksia Gardens Community Services, Ms Gina Dougall.
Gina' brings extensive community, health and leadership experience to her role. Prior to commencing at Banksia Gardens in 2001, Gina spent seven years living in Alice Springs where she was employed as Manager for Education and Training for Family Planning Northern Territory. including remote area work.
Other speakers include Reverend Dr Satvasheela (Sheela) Pandhare, Vicar of Hume Anglican Parish and Mr Evan Mulholland, State Government MP for the Northern Metropolitan region. The MC is Martin Horan.
Rev Dr Pandhare is the Vicar of Hume Anglican Parish which has two worship centres – St. Peter's Church Craigieburn and St. John's Church, Wandong. She is also Chaplain at Hume Anglican Grammar School. Before coming to Australia in 2021 Reverend Dr Pandhare was a theological teacher.
1 pm Temple walk – encircle the magnificent traditional Tibetan temple with local expert, Venerable Cathy Evans, who will explain the iconography and the temple's remarkable background history
1.30 pm Children's meditation and activities near the temple with Donna and Espe
2 pm Talk and guided meditation – Zen Master Ekai Korematsu Roshi of Jikishoan Zen Community
Compassionate Living: The Core of Buddhist Meditation
During this session Ekai Roshi will delve into how meditation serves as the cornerstone for cultivating empathy and kindness in our daily lives. Attendees will gain practical insights and wisdom to foster a more compassionate, peaceful, and harmonious existence. You can learn about Ekai Roshi's background below.
EKAI KOREMATSU ROSHI
Ekai Korematsu Roshi has been serving as Abbot and Resident Teacher of Jikishoan Zen Buddhist Community in Melbourne since 1999.
Ekai Roshi is a transmitted teacher in the Soto Zen tradition and has taught Zen Buddhism in Japan, India, USA, Australia and New Zealand for over 35 years.
Since 1997 he has been a faculty member of Carleton University Buddhist Studies in India Program.
Ekai Roshi is the main Teacher and Director of Jikishoan's "Zen and Integrated Buddhist Studies" Program, and he has taught at the Tibetan Buddhist Society Spring and Autumn festivals for more than 20 years.
Other activities:
Alongside the schedule are many other delightful festival activities, Please click here for the full list
Festival gate entry*
$15 single, $10 concession
$20 for one adult & one or more children, $15 concession
$25 for two adults and school age children
Proceeds support maintenance of the temple and gardens.
*The facility charge includes entry and access to – Lectures & meditation, Ceremony for World Peace, Children's meditation, Gardens and Garden Tour, Guided Temple Walk.