On site and online via Google Meet – you are warmly invited
Benefit for all sentient beings
Geshe Loden exemplified infinite qualities and activities to benefit sentient beings. He continuously reminded us that life will be useful and meaningful if we develop the special human qualities of kindness and compassion and look after others.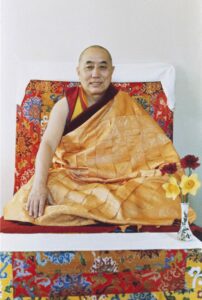 Geshe-la addressed the needs of the world in the spheres of Buddhism, religion generally, community leadership, environment, national development and international issues.
Drawing from his nine internationally acclaimed books used to propagate his teachings, Geshe-la asked that Buddhists embrace non-violence, freedom and peace.
He respectfully appealed to all the world's great religious traditions to take the common values of love, compassion and charity as the basis for harmony.
Geshe-la's powerful energy and spirit live on in our supportive community, extensive teaching program, activities to benefit the wider community and the beautiful peaceful traditional Tibetan temple and gardens that bring pleasure to so many.
The Tibetan Buddhist Society community prays for the swift return of Geshe-la's reincarnation, Loden Rinpoche.
Anniversary program 2022
You are welcome to join us in the magnificent traditional Tibetan temple. For online participants, the prayers will be shown on your screen. Please join as below:
Google meet link here, or
Dial-in: (AU) +61 2 9051 7938 PIN: 374 085 939#
Wednesday 24 August at 7.30 pm: Commemoration of Founder Geshe Loden's passing (no Yamantaka session), followed by supper
Sunday 28 August at 4 pm: Commemoration prayers on Geshe Loden's passing (no Path to Enlightenment), followed by afternoon tea
Saturday 3 September at 2 pm:Prayers for Geshe Loden's final equipoise, followed by afternoon tea
The three prayer sessions will include the Gaden Lha Gya Ma sadhana and other prayers prescribed by Geshe-la.
Like earth, water, fire and wind,
Like sun, moon and like space itself,
May I support the life of living beings
Spontaneously, effortlessly and constantly.'