A selection of images from recent events at the Tibetan Buddhist society since our last newsletter in August 2022.
White Tara empowerment in October 2022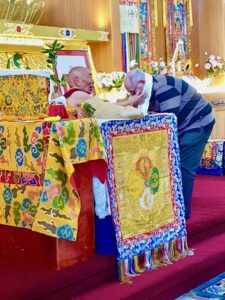 Of recent events at the Tibetan Buddhist Society one of the most joyous, colourful and profound was the White Tara blessing on 23 October 2022. The empowerment was conducted by the Spiritual Teacher of Tara Institute, Venerable Geshe Doga, who was a friend of our founder, Venerable Geshe Acharya Thubten Loden.
In this touching photo a kata (white offering scarf) was offered to Venerable Geshe Doga, in the traditional manner, after the empowerment. Geshe Doga then kindly returned the kata to each participant.
Venerable Khensur Rinpoche – unexpected visitor in October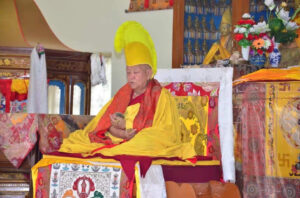 We were delighted to welcome an unexpected visitor in October 2022, the former Abbott of Gyumed Tantric College, Venerable Khensur Rinpoche Lobsang Pende, who spoke at length about core topics of the precious Dharma.
January retreat with Les Sheehy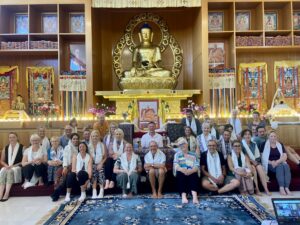 Around 30 people joined the Path to Enlightenment retreat in January, led by Tibetan Buddhist Society WA teacher, Les Sheehy, who kindly travelled to Melbourne with his wife, Marg Sheehy, for the week-long event.
Vietnamese New Year
The annual pilgrimage by Vietnamese new year visitors resumed this year with a wonderful visit by Quang Minh Temple, led by Abbott, Venerable Thich Phuoc Tan, in late January.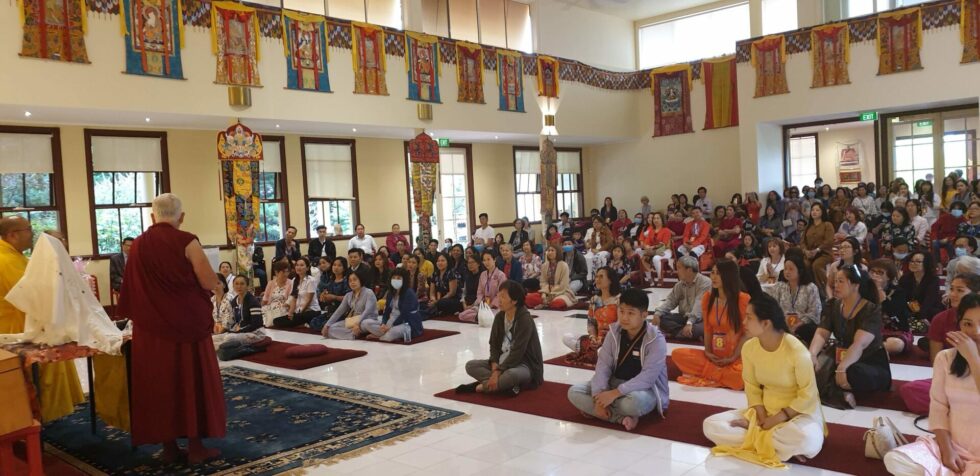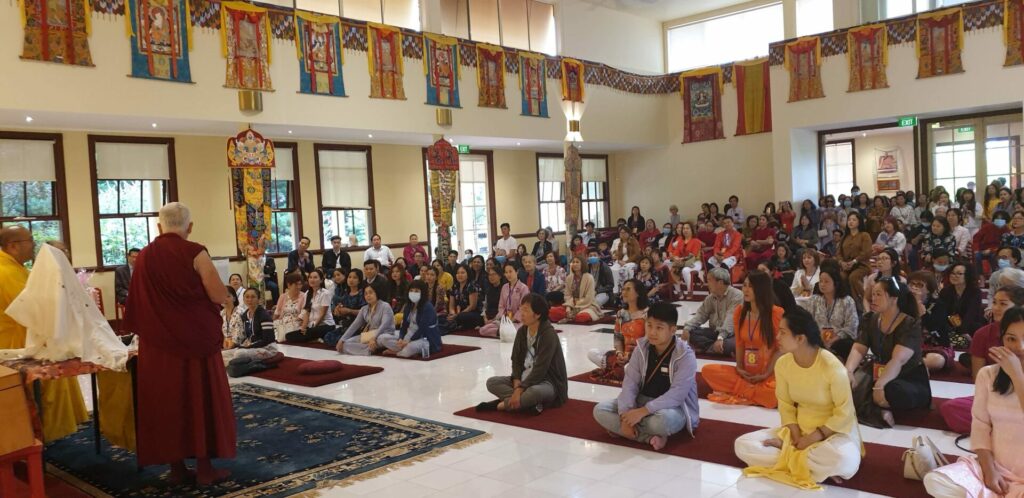 New Year Meditation Festival – Feb 2023
Opening the centre to the public again for the New Year Meditation Festival was a joyous event. It was especially marked by the presence of senior monks and nuns from various parts of Melbourne and Victoria at the New Year Blessing Ceremony. One of the speakers, Venerable Thich Linh Tan of Nalanda Institute Australia, kindly brought along many members of his community pictured in the second image below