A selection of images from recent events at the Tibetan Buddhist society since our last newsletter in April 2023.
Mahamudra retreat 2023
From June 10-16, this bunch of happy campers completed a wonderful week-long Mahamudra retreat led by Les Sheehy.  There were also ten or so online attendees (not shown) – the online option making the retreat accessible to a wide variety of people, both local and interstate.  Les will also lead the upcoming Vajrayogini retreat from 17 Sept to 7 October for practitioners with appropriate empowerments.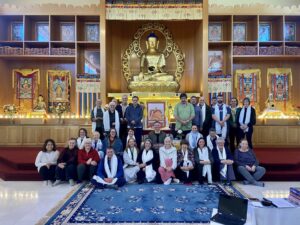 New one day and weekend retreats popular in 2023
A series of one day and weekend retreats was introduced in 2023 and proved very popular. Michael Joseph led a beautiful day of meditations in May on White Tara as evidenced by the serene attendees pictured below! This was the first of our new short retreats for 2023.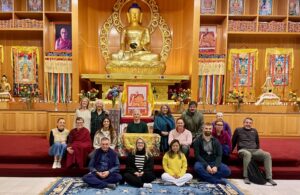 This was followed by a weekend Medicine Buddha sadhana retreat led by Venerable Anna Goldstein in July, and a one day Manjushri sadhana retreat with Nick Sleeman in August – both well attended.
This year the retreat team has been trialling a variety of styles and lengths of short (1 to 1.5 day) retreats offered both in-person at the temple and online. The fourth and final short retreat for this year will be on 28th Nov, led by Michael Joseph, topic TBA. Please check Latest News in coming weeks on the website for the details.
Other Community Events
On 27 May, the a pizza-and-cheesecake "thank you" lunch was held for our volunteers (yum!). The lunch was followed by the biannual commuity meeting – where all members of the TBS are welcome to offer ideas and provide feedback on TBS programs and activities. (See the meeting notes for more info.)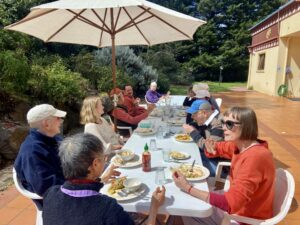 Visits to the centre
Community groups have been returning to the centre throughout 2023. To date there has been two school visits – from Braemar College from Woodend and Hume Anglican Grammar from Craigieburn, each with around 140 students from Years 8 and 9 respectively. The University of the Third Age (U3A) Wallan visited in August for a temple tour and morning tea. And a large garden group is planning a visit for November.