Special blessing by Venerable Geshe Doga
11 am Sunday 23 October
We are delighted to announce a very special event in October.
The Spiritual Teacher of Tara Institute, Venerable Geshe Doga, will bestow the White Tara Long Life empowerment at 11 am on Sunday 23 October in the magnificent traditional Tibetan temple in Yuroke.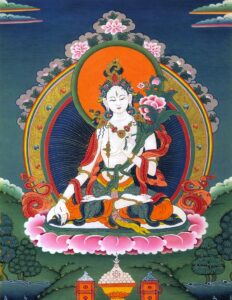 White Tara
White Tara, a manifestation of the Buddha, also known as the Mother of Compassion, is regarded for her qualities of healing and activities to benefit others.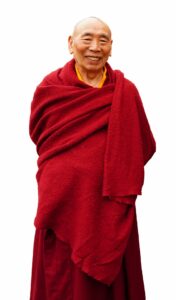 Receiving this empowerment is considered to be a great blessing and supportive of a long and healthy life.
It is a peerless great honour that Venerable Geshe Doga (pictured right and below) has accepted the Society's invitation to give this invaluable initiation.
Our founder, Venerable Geshe Loden considered this empowerment so valuable, he gave it every year.
Venerable Geshe Doga
A renowned Buddhist scholar and teacher, Geshe Doga has been teaching students in Australia for around 40 years, mainly based at Tara Institute in Brighton.
Geshe-la has a wonderfully warm presence.
Highly accomplished and treasured lama
This empowerment offers a marvellous chance to spend some time with such a highly-accomplished and treasured lama.
Geshe Loden always praised Geshe Doga's qualities, including his kindness and friendship to Geshe Loden and the Tibetan Buddhist Society over many years.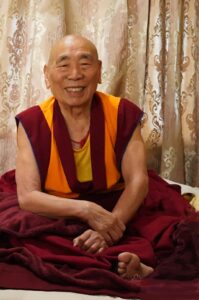 They were born in a similar area in eastern Tibet, though different decades, and along with many other monks and Tibetans, made the journey to India following His Holiness the Dalai Lama's departure from Tibet in 1959, and both maintained their intensive Dharma studies.
Information
Please register if you would like to attend.
The empowerment will be held in our magnificent, peaceful Tibetan temple. No other classes will be held this day. There is plenty of comfortable seating including chairs and cushions.
Refreshments will be served after the teaching. Proceeds support the maintenance of the Tibetan temple and gardens. Please register via the button below. There is a $20 facility charge and $15 concession – both including the refreshments.
For more information please email events@tushita.org. You can register here.