By Heather Moors
Dedicated residents and volunteers alike have been working diligently over the summer to continue to maintain the gardens and flower and plant beds to create delightful pockets of colour, texture, fragrance and peace throughout the property.
Specifically, the pittosporum, cyprus and feijoas in front of the main building have been sculptured into lovely cone-like shapes and the numerous salvias have also had a much needed haircut, promoting growth and pretty blooms. The birds and butterflies are very happy!
In the past couple of months we have been weeding and mulching the beds along the driveway and around the temple and it's always a pleasure to sit back and admire the freshly exposed soil and sometimes discover little treasures that have been hiding under the weeds.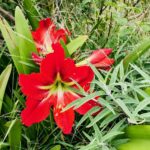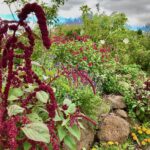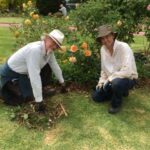 The roses too have again given us copious heaven-scented blooms to admire, and if we are lucky, cut, to take home to enjoy.  Watering the gardens is a challenge and the dedication of a few people who attend to this is much appreciated, as is the mowing of the lawns which always look manicured.
I was reminded that Geshe-la said that gardening is a cause of a strong body and if you're up for a bit of core work, laughter, good chats and wonderful morning tea, please join us in the garden. We are there every Saturday morning 10-12 noon.