By Cat Neal
Hello, my name is Caterina, but I am known at TBS by my nickname Cat and as my name suggests I have a natural love towards animals. I really do enjoy TBS from its beautiful gardens to its lovely temple. Prior to finding this lovely temple and community I was looking to find friends, a hobby and learn about meditation. Originally I am from the country and so it was a big move to establish myself in the city.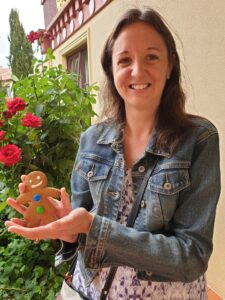 Joining the TBS community has really helped me to gain friends and my hobby has become studying the Dharma, meditating and attending yearly retreats. Indeed volunteering and being involved in numerous TBS teams such as technology and Events and Classes team has really helped me in my personal life to connect and feel part of something bigger than myself.
If you attend introduction and path to enlightenment classes, there will most likely be a cake baked by me as well as others and I have served afternoon tea to the attendees on numerous occasions. My claim to fame is the rocky road I have made for several retreats, and stalls at rose gardens and festivals! And I baked gingerbread for people at the end of year dinner.
I have volunteered on Vietnamese visits during their lunar New Year, and it is so amazing to see the lovely vibrant and colourful dresses the ladies wear. The festival at Tibetan New Year is another favourite, it is so lovely being in the temple and celebrating this auspicious time.
Occasionally I will be found helping in the garden during retreats and on a few Saturdays' garden open days. To be honest, volunteering never feels like hard work or too onerous for one person.  Most of the time I work, chat away and have a lovely time.